We are just not going to catch a break this month, my darlings.  Speaking at the World Conference of Science Journalists, in a session honoring women in science, Nobel Laureate Tim Hunt gave a talk that was more than a tad controversial. From the Buzzfeed story…
Tim Hunt, who won the 2001 Nobel Prize in medicine for his work on cell duplication, was speaking at an invitation-only lunch in honor of women in science. He reportedly opened his talk by saying: "Thanks to the women journalists for making lunch."

The 72-year-old scientist went on to say that he has a reputation as a chauvinist, and that labs should be segregated by sex. The problem with female scientists? "You fall in love with them, they fall in love with you, and when you criticize them, they cry!"
Uncool in the worst possible way, but all of this has me thinking about two things…
1) The Royal Society, of which Hunt is a fellow, quickly released a statement "distancing themselves" from Hunt's statements, saying
Too many talented individuals do not fulfil (sic) their scientific potential because of issues such as gender and the Society is committed to helping to put this right. Sir Tim Hunt was speaking as an individual and his reported comments in no way reflect the views of the Royal Society.
Thus, I say unto them, that statement, verily, is a heap of bullshit. This is a profession of values without commitment. I mean, I think about these sorts of non-pologies a lot. The Royal Society, like the National Academy, has a diversity problem. It's composed of 6% women and 16% minorities and it's made only the most minor strides in the last decade, although it celebrates the increase in the election of women to 10% on its webpage.
But, I think to myself, is this the kind of organization I would want to be affiliated with? Would I be proud to be elected as a member? Yes, it's prestigious among all the pale and male, but would I be proud to be a member of a club that claims to value inclusion and diversity while also allowing people like Tim Hunt to hold the honor of membership? What does that mean for my membership if that's the caliber of people in my club? It's not enough for me anymore for an organization to say that it "values diversity" and that it "vows to increase the representation of underrepresented parties". You've gotta both open the door and kick out the horrible people that make underrepresented people uncomfortable. *AND*, to put the task of increasing membership in the hands of people that have such disdain for underrepresented groups via the peer review system only proves how little commitment The Royal Society actually has to increasing diversity among its membership.  If the party is being held by people like Tim Hunt, I don't think I want an invitation.  I'll stay at the Girls Only party.
Let me be more blunt. The Royal Society cannot speak credibly about valuing diversity if it allows Tim Hunt to remain a fellow with the ability to vote on new members when he has spoken so clearly about his "reputation for being a chauvinist."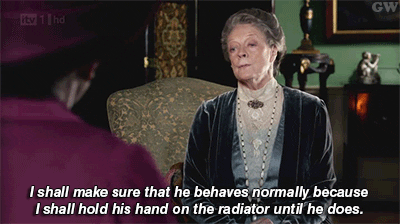 2) I feel the ire of my colleagues at the suggestion that they be segregated from male scientists because they simply can't help but fall in love and have their delicate hearts broken.  I support said ire. What I do not support is the implication that this is more offensive because Hunt is, to put it in Tiny Diva-speak, "ew-y". True, Tim Hunt has flowing, glossy, Rapunzel-esque nose hair. Of course, we ladies wouldn't really be interested in him! Still, one woman's nasty sneezer whiskers, is another woman's reigns with which to ride the stallion…as it were. Surely he's making someone's panties moist.
Addendum: Moist is a nasty word.
Pointing out someone's appearance creates an unfortunate bit of logic. It's obvious that we ladies don't need to be segregated because he is gross and there's no way we would fall head over heels for a hairy shnoz-ed hobbit.  By extension, if he were attractive, it might be a different story. Elect Idris Elba to The Royal Society and we lady scientists might need to be cloistered.  What he said is wrong, regardless of how he looks. Shaming him for his appearance, though, suggests the sort of fault-by-appearance and body shaming that women fight against so frequently when it comes to accusations that it's "our fault" because of how we look or how we were dressed. Or conversely, we're too fat, or two ugly, or…